5 Rad reasons to love coast hard seltzer....
COAST NEWS
---
Great question, it's literally soda water (only the finest at Coast of course).Spiked with alcohol, and a hint of your favourite natural flavour. Over wine? Have a seltzer! Gin not your...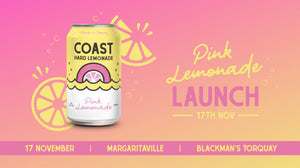 Join us for the launch of our Pink Lemonade! We are so excited to introduce our brand new holiday in a can! This exciting addition to the COAST lineup blends the crispness of...
Hey, seltzer fans! We've got some thrilling news to share. At Coast Seltzer, we've been hard at work concocting a unique, refreshing flavor that'll leave you craving more. And guess...